Are you a coffee-lover who wants to step up your morning coffee ritual? One of the useful ways to elevate this routine is to explore DIY coffee bars or stations if you want to experience a cosy and friendly place to sip your hot drink. With some touches of originality, you can transform the rigid corners of your kitchen and small ways can be entirely functional. 
So, if you're excited to learn some of the best coffee bar ideas in order to have the most ideal little spot for your morning coffee time, then we're here to help you out: 
1. Use an organizer for your supplies 
You don't really have to use fancy holders for your stuff, you can actually use a makeup organizer or a utensil holder to save some counter space and maintain all supplies on hand. 
 2.  Save space by hanging your mugs 
To have some essential counter space, you can place some DIY navy and copper display shelves that provide you with a place to hang up to 12 coffee mugs at one time. In addition, you can place more on top. 
If you want to bring the hottest coffee shop in town into your own home, get a nice chalkboard wall and write or draw the menu on it. 
4. Serve your yummy treats 
To feel as if you're at your favourite cafe, stock up on coffee treats whether you made them your own or bought them from the store. Get a cake stand so you and your guests would feel as if you have your own cafe. 
5. Make the coffee spot cosy 
Your coffee bar should be the cosiest place in your kitchen if you want to spend a relaxing and stress-free weekend. You may place industrial velvet dining chairs, plush pillows, fresh plants, and some books beside the coffee machine. 
6. Use what you have already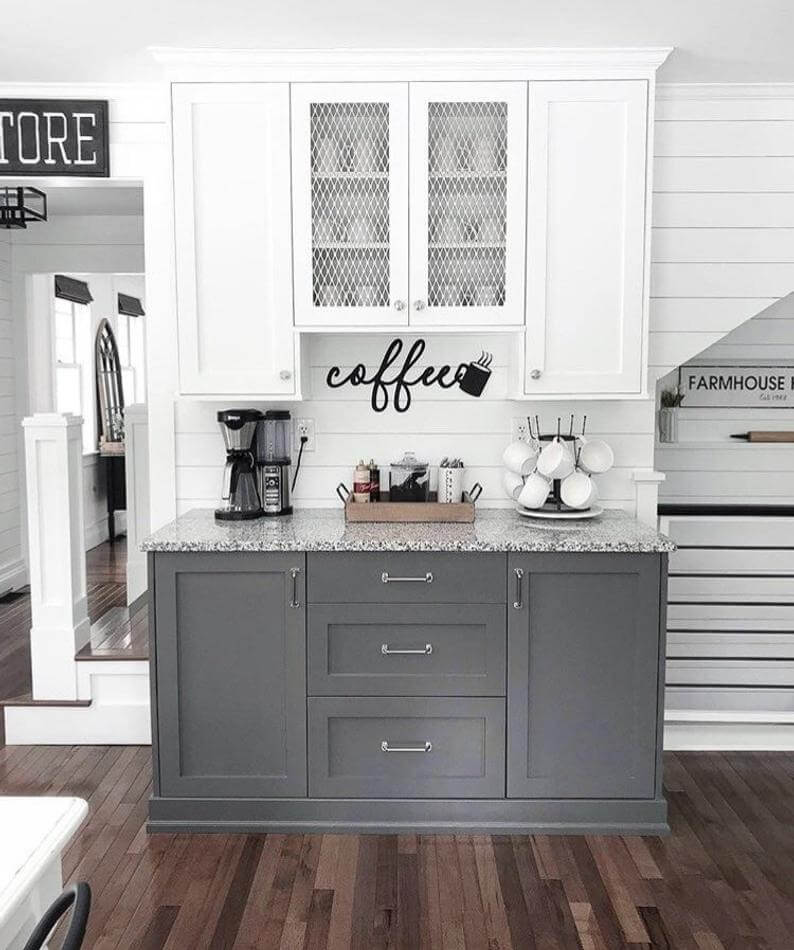 If you have a slim cabinet in your kitchen already, you may work with it by transforming it into an improvised coffee station. You may place all the basic things you have such as your well-loved travel mugs for grab-and-go days. 
7. Utilize a coffee bar cart 
To make it feel as if you have a real coffee place, you can definitely roll a bar cart from room to room to maintain the tea, coffee, and hot cocoa flowing. To create drinks that are party-ready, you may brew them earlier and hold them in easy-to-pour pitchers. 
8. Design your coffee bar in a multi-level manner 
Even if you don't have enough space on your counter or drawer, it doesn't mean you can't have the opportunity to have a coffee station in your kitchen. Rather, you may think vertically by hanging shelves of various sizes and shapes to effortlessly fit coffee spoons, mugs, and several accessories. 
9. Give an assortment of flavourings 
Why not fill some oil pourers with your favourite syrups to your own type of custom beverages. You don't really long for the nearby coffee shop in your place when you have this. 
10. Make your coffee bar healthy 
Of course, when it's workweek, you may want to prepare some travel mugs or disposal cups to quickly grab your coffee and go. If you want to remain healthy throughout your busy days, it's ideal that you prepare a basket of fruit next to the coffee machine. 
11. Keep it minimal 
You may want to avoid a cluttered appearance by keeping everything, including your mugs, creamer, coffee maker, and sugar bowl in the same colour. You may embellish the coffee station with fake flowers and on-theme signs. 
12. Label the baskets and organizers 
Since we already mentioned utilizing your old cabinet to save space, when you load it, you may label baskets and organizers. Also, include many coffee and tea varieties for your guests to welcome with a fresh brew. 
13. Know what to place in your bar cart 
For the coffee bar cart, there is a rule that you need to follow. On the top shelf, you can place the coffee maker and other essentials there for easy access. Then those fragile items like mugs must be contained on the lower shelf to reduce the impact. 
14. Add some playful colours 
Your coffee bar should also be a fun space! To make it a happy spot, involve some colours into your space by adding a patterned mug that looks like a carousel and paper straws to your coffee bar. 
15. Align your home's aesthetic to your coffee station 
Never forget that your coffee station must be aligned with the rest of your home's aesthetic. For instance, if the style of your home is a modern one, it's best to add some sleek canisters, geometric prints, and faux greenery to the station for it not to look awkward.